Tune into Open Data
in a Closing World
World Research Institute | READ STORY
WRI launches Resource Watch, a new platform for visualizing and analyzing environmental data, at the National Geographic Society, Wednesday, March 11. More info here.
The Most Inclusive U.S. Cities, Mapped
Citylab | READ STORY
Economic growth doesn't necessarily go hand-in-hand with economic and racial inclusion. That's the finding of a new in-depth Urban Institute analysis of the 274 largest cities in America. The study measures economic growth from 1980 to 2013 alongside measures of economic health and racial disparities to rank inclusive and recovering cities. CityLab's Tanvi Misra digs into the report's takeaways from successful cities that improved inclusion as they grew. The report's top 10 cities for overall inclusion tended to be mid-sized cities in California—from Fremont to Santa Clara to Carlsbad—with Bellevue, Washington, and Naperville, Illinois, also ranking high. Meanwhile, bigger cities landed in the bottom ranks, with Dallas, Houston, Phoenix, Atlanta, and Miami all performing poorly on overall inclusion.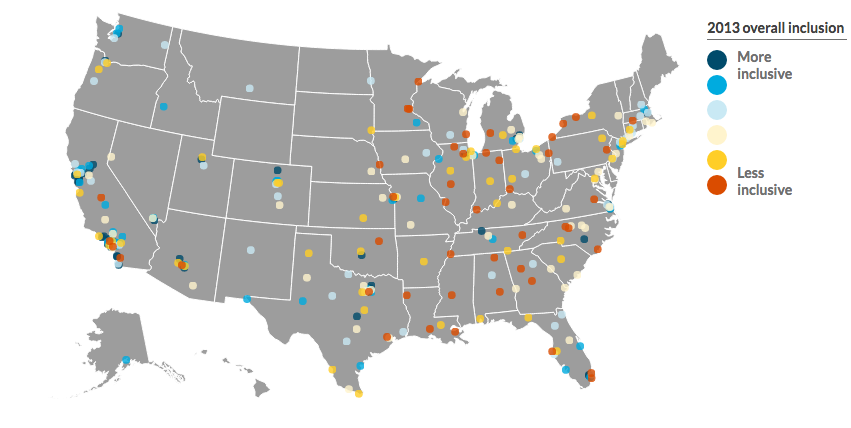 5 Facts About Americans and Facebook
Pew Research Center | READ STORY
Facebook is in the national spotlight as its co-founder and chief executive, Mark Zuckerberg, testifies before Congress. Zuckerberg is expected to face questions from lawmakers over the company's recent disclosure that data on up to 87 million of its users may have been improperly shared with a political consulting firm during the 2016 U.S. presidential election. His trip to Capitol Hill comes as many Americans express concerns over the way social media firms are handling personal information.
Farm Bill Should Do More for Rural Health and Hospitals
Daily Yonder | READ STORY
Congress should ensure that the farm bill does more to address rural healthcare needs, especially shoring up the finances of struggling rural hospitals, rural health advocates say. The Republican bill, released by House Ag Committee Chair Mike Conaway (TX) Friday, already includes a provision to allow the secretary of Agriculture to move more funds into health-care needs through the declaration of a rural health emergency. But legislators need to understand that closing rural hospitals isn't just a health care problem, Elehwany said. It's also a big rural economics issue. The Daily Yonder spoke with Elehwany to learn about the health-care implications of the farm bill and what rural health advocates think needs to be improved in the legislation moving forward
May 8-10, 2018
Belgrade, Montana
Sponsor: Gallatin Valley Committee
Workshop: May 8-10, 2018
Livingston, Montana
Building Active Communities Initiative (BACI)
June 10-13, 2018
Cleveland, Ohio
Sponsor: NACDEP
July 22-25, 2018
Detroit, Michigan
Sponsor: Community Development Society
MSU Extension Community Development | Wilson Hall 2-117 P.O. Box 172240 | Bozeman, MT 59717-2240
Tel: (406) 994-3620
Back issues of the Community Development E-news are available here
To subscribe to the Montana CD E-Newsletter, send a request to: commdev@montana.edu