These 5 Countries Gave the Most Humanitarian Aid in 2017
Global Citizen | READ STORY
The world spent $27.3 billion on global humanitarian aid in 2017, according to a new report from nonprofit organization Development Initiatives. The Global Humanitarian Assistance Report 2018, released in June, used data from the Organization for Economic Co-operation and Development (OECD) and the United Nations Office for the Coordination of Humanitarian Affairs (UNOCHA) to determine where resources were most needed in 2017, as well as where they came from and how funds were allocated.
Poll Ranks India the World's Most Dangerous Country for Women
The Guardian| READ STORY
India is the world's most dangerous country for women due to the high risk of sexual violence and being forced into slave labour, according to a poll of global experts. Afghanistan and Syria ranked second and third in a Thomson Reuters Foundation survey of 548 experts on women's issues, followed by Somalia and Saudi Arabia.The only western nation in the top 10 was the US, which ranked joint third when respondents were asked where women were most at risk of sexual violence, harassment and being coerced into sex.
Almost Half of US Families Can't Afford Basics like Rent or Food
CNN Money | READ STORY
Nearly 51 million households don't earn enough to afford a monthly budget that includes housing, food, child care, health care, transportation and a cell phone, according to a study released recently by the United Way ALICE Project. That's 43% of households in the United States.California, New Mexico and Hawaii have the largest share of struggling families, at 49% each. North Dakota has the lowest at 32%.
Opting Out of Vaccines Leaves These US 'Hot Spots' Most Vulnerable for Outbreaks
CNN Health | READ STORY
A number of American states and metropolitan "hot spots" are vulnerable to outbreaks of vaccine-preventable disease, new research suggests. The reason? Children whose parents opted out of vaccination. The risk of outbreaks is rising in 12 of the 18 states that permit nonmedical exemptions from childhood vaccinations, according to a study published Wednesday in the journal PLOS Medicine. Those states are Arkansas, Arizona, Idaho, Maine, Minnesota, North Dakota, Ohio, Oklahoma, Oregon, Pennsylvania, Texas and Utah.
The Geography of (Not) Jogging
My Interesting News | READ STORY
Only about 23 percent of U.S. adults manage to get the recommended amount of exercise each week in their leisure time, according to a new report from the CDC. Exercise rates among adults vary greatly at the state level, from a low 13.5 percent in Mississippi to a high of 32.5 percent in Colorado, according to the report. As you can see in the map above, about 13 states (shown in dark red) posted a significantly lower percentage of adults who got enough exercise compared to the national average.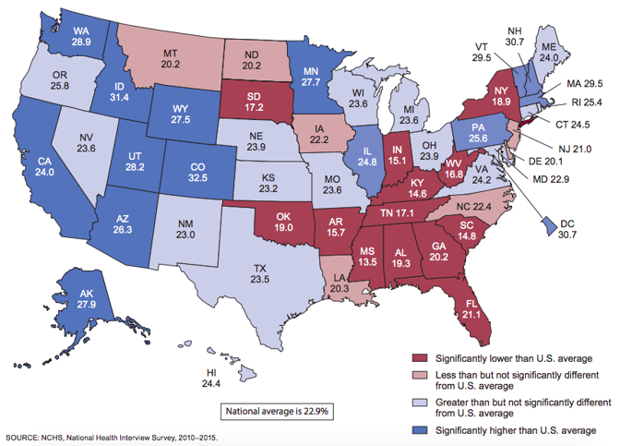 Montana had 8 representatives attending the 2018 World Community Development Conference in Maynooth, Ireland last month; co-sponsored by the International Association for Community Development(IACD) to celebrate our 65th Anniversary, the Conference Book of Abstracts containing over 200 contribution is now available as well as the Conference Declaration. Stay tuned for information on the 2019 World Community Development Conference in Dundee Scotland, June 24-26. The next IACD Practice Exchange will be Oct. 9-19 in Bali, Indonesia; registration information here. Learn more about international community development work at the IACD Facebook site and IACD Member Facebook site.
Paul Lachapelle
MSU Community Development Specialist
NACo Annual Conference & Exposition
July 13-16, 2018
Sponsor: NACo
2018 Community Development Society Conference
July 22-25, 2018
Detroit, Michigan
Sponsor: Community Development Society
Banking and the Economy: A Forum for Minorities in Banking
September 27, 2018
Charlotte, N.C.
Sponsor: Federal Reserve Bank of St. Louis
Reinventing our Communities
October 1, 2018
Baltimore, Md.
Sponsor: Federal Reserve Bank of St. Louis
National History Day Awards and Special Prizes
Deadline: July 19
Funder: National Park Service
Community Development Block Grant (CDBG) Program
Deadline: Ongoing
Funder: Department of Commerce
Collaborative Activities to Promote Cancer Cachexia Research
Deadline: July 30
Funder: National Institutes of Health
Community Facilities Programs
Deadline: Ongoing
Funder: Rural Development, USDA
NGO Small Grants Program
Deadline: August 6
Funder: Department of State
$3.5 Million in Community Development Grants Awarded
Nevada Appeal, July 9
Olean to Hold Hearing on Community Development Block Grants
Africa News, July 9
Indiana gets $54M for Housing, Development, Aid to People
Fresno Bee, July 9
Peoria officials, Community Development Department to Combat City Littering
CI Proud, July 9
$82K Awarded for Revitalization Projects in Uptown Butte, including Planned Italian Restaurant
Montana Standard, July 9
Community Foundation Partnerships Can Bolster Emergency Response
Efficient Gov, July 9
Montana Energy Corps Members Do the Hard Work of Sustainability
Missoula Current, July 9
Western Montana Home Construction Doubles In Areas With High Wildfire Risk
MPR, July 9