Global Status Report on Road Safety 2018
World Health Organization | READ STORY
This report highlights that the number of annual road traffic deaths has reached 1.35 million. Road traffic injuries are now the leading killer of people aged 5-29 years.
America's Most Dangerous Roads for Pedestrians
City Lab | READ STORY
The 2019 edition of Dangerous by Design, a recurring report by Smart Growth America and the National Complete Streets Coalition, finds that the number of people struck and killed while walking has grown a startling 35 percent since 2008.

More Americans are Using Ride-hailing Apps
Pew Research | READ STORY
The share of Americans who use ride-hailing services has increased dramatically. Today, 36% of U.S. adults say they have ever used a ride-hailing service such as Uber or Lyft, according to a Pew Research Center survey conducted in fall 2018.

How Does Your State Make Electricity?
New York Times | READ STORY
America isn't making electricity the way it did two decades ago: Natural gas has edged out coal as the country's leading generation source and renewables like wind and solar have made small yet speedy gains. But, each state has its own story.

Ion Age: Why the Future will be Battery Powered
The Guardian | READ STORY
In 2017, more than 1GW of power storage capacity was added around the world - a record, yes. but still a drop in the ocean of global energy demand.
This Map Shows Which Parts of the U.S. will Suffer Most from Climate Change
Fast Company | READ STORY
A new map shows the projected county-by-county damages for the last two decades of the century, with the counties facing the heaviest burden shown in dark red.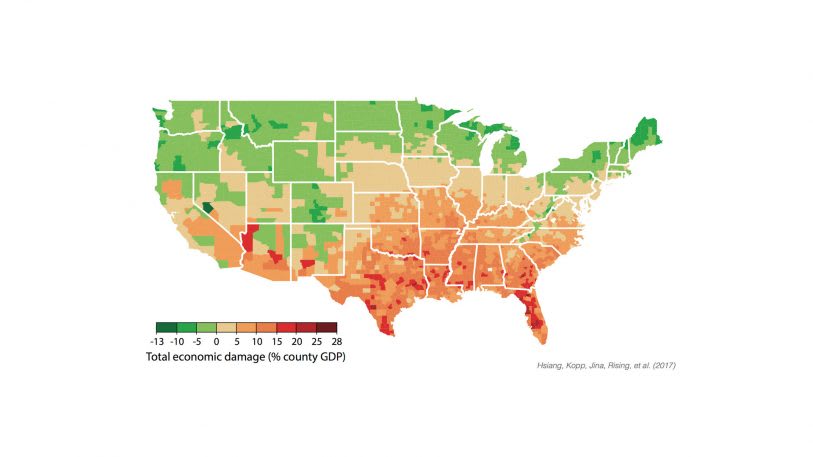 The Montana State University Extension Community Development Update will run concurrently with the MSU Extension Western Region Update; this professional development opportunity for Extension faculty is called the Western Montana Leadership Update and will take place in Butte, March 4-6, 2019. Please contact if you would like more information. There is an additional CD Update planned for Extension faculty in the eastern region of the state later this spring; details to follow.
Applications are now being accepted for the NACDEP Excellence in Community Development Work Awards. The deadline to apply is March 4. Go to the NACDEP website for more info.
The MSU Extension Community Development Small Business Webinar Series continues this winter with our next webinar Feb. 7 at 11am. We have a great line-up of presenters through our co-sponsors of the series; Feel free to join the list serve or access our archived recordings.
Paul Lachapelle
MSU Community Development Specialist
Texas Opportunity Zone Summit
March 5-6, 2019
San Antonio, Texas
Sponsor: Federal Reserve Bank of Dallas
People & Places 2019
April 15-17, 2019
Arlington, Virginia
Sponsor: NACEDA
CDS 2019 Annual International Conference
July 14-17, 2019
Columbia, Missouri
Sponsor: Community Development Society
Funding to Advance Justice and Opportunity for People in Need

Deadline: Ongoing
Funder: Public Welfare Foundation
Capital Grants for Rural Public Systems
Deadline: March 1, 2019
Funder: Montana Department of Transportation
Rural Residency Planning and Development Program
Deadline: March 4, 2019
Funder: Department of Health and Human Services

Regional Research Conferences in the Mathematical Sciences
Deadline: April 26, 2019
Funder: National Science Foundation

Community Development Block Grant Program

Deadline: Ongoing
Funder: Department of Housing and Human Development
Third of Himalayan Glaciers Can No Longer be Saved
Associated Press, February 5
What You Need to Know About Measles as the Virus Spreads Across the US
KPAX, February 5
Asia Welcomes Year of the Pig with Banquets, Temple Visits
Associated Press, February 5
The Latest: May says She Won't Completely Remove Backstop
Associated Press, February 5
Montana's "last resort" for finding teachers is becoming increasingly common in rural schools
Billings Gazette, February 4
Montana Natural Resources Department now Hiring Seasonal Firefighters
KTQV, February 4
Missoula Lawmaker Sponsoring Bill to Address Prenatal Addictions
KPAX, February 5
Flu Continues Spreading Across Montana
KPAX, February 5
MSU Extension Community Development | Wilson Hall 2-117 P.O. Box 172240 | Bozeman, MT 59717-2240
Tel: (406) 994-3620
Back issues of the Community Development E-news are available here
To subscribe to the Montana CD E-Newsletter, send a request to: