The State Of Global Peace In 2016
Forbes | READ STORY
According to the 2016 Global Peace Index, the world has become increasingly dangerous with only 10 countries considered completely free of conflict. The refugee crisis, terrorist attacks and military conflict have all combined to make the world less peaceful this year than it was last year.
One-third of the World Cannot See the Milky Way
CNN | READ STORY
Scientists believe one-third of humanity cannot view the Milky Way - this includes 80% of Americans and 60% of Europeans because city lights are creating fogs of light pollution, according to a new study published in the journal of Science Advances. Moreover, light pollution causes global ecological consequences, poses public health issues, and wastes energy and money.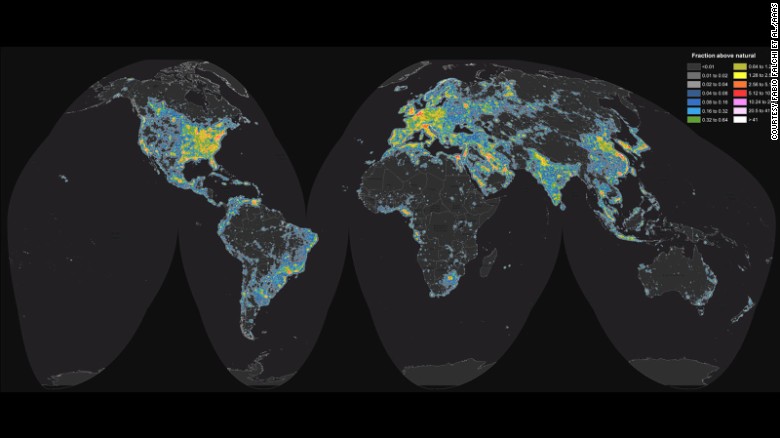 Hundreds of Cancer-Causing Chemicals Pollute Americans' Bodies
Common Dreams | READ STORY
Hundreds of cancer-causing chemicals are building up in the bodies of Americans, according to the first comprehensive inventory of the carcinogens that have been measured in people.
More Young Adults Now Live With Parents Than Their Partners
Pew Research Center | READ STORY
In 2014, for the first time in more than 130 years, adults ages 18 to 34 were slightly more likely to be living in their parents' home than they were to be living with a spouse or partner in their own household.
Mass incarceration in America, explained in 22 maps and charts
Vox | READ STORY
America is number one - in incarceration. Over the past several decades, the country has built the largest prison population in the entire world, with the second-highest prison population per capita behind the tiny African country of Seychelles.
Rural Areas Show Net Gains in Jobs Over Last Year
Daily Yonder | READ STORY
Though rural areas and small cities have more jobs than they did at this time last year, the rate of growth remains slower than in urban areas. From April 2015 to April 2016, a third of rural counties saw a net decline in the number of jobs.
US Solar Power Market Hits All-Time High
Guardian | READ STORY
The US solar industry expects to install 14.5 gigawatts of solar power in 2016, a 94% increase over the record 7.5 gigawatts last year, according to a new market report by GTM Research and the Solar Energy Industries Association.
MACDEP members Katie Weaver and Pat McGlynn and I gave a presentation at the recent 2016 ANREP-NACDEP Conference in Burlington, VT on our upcoming 2017 CDS-NACDEP conference; Our 2017 Conference theme is "Big Skies, Bold Partnerships: Moving Mountains Together." More info about the 2017 Community Development Conference at www.2017CDS-NACDEP.org.

The Montana State University Community Development Program social media platforms are undergoing a facelift; please follow our work via our Facebook and Twitter.

The International Association for Community Development is recruiting individuals to serve on our Board of Directors; please for more information. Also, please consider joining the IACD as a full member; contact for more information. Among the many benefits, you'll receive a copy of our publication Practice Insights; the latest issue covers articles on community development practice in Europe, China, India, Nepal, Oceania and North America. Keep up to date with the lessons from practitioners around the world.

-Paul Lachapelle
MACDEP President
Joint IACD/CDS International Conference
July 24-27, 2016
Bloomington, MN
Sponsor: IACD / CDS
IARSLCE 16th Annual Research Conference
September 26-28, 2016
New Orleans, LA
Sponsor: IARSLCE
June 11-14, 2017
Big Sky, MT
Sponsor: CDS / NACDEP
Rural Community Investment
Deadline: Ongoing
Funder: CHS, Inc.
Community Building Grants
Deadline: Ongoing
Funder: Singing for Change
Sports and Community Development
Deadline: Open
Funder: Adidas Group
Developing Healthy Places
Deadline: Ongoing
Funder: The Kresge Foundation
Community Development Specialist
Department of Human Ecology
University of California Davis
EU-British Residents Worry Following Brexit
Austrian Presidential Vote Overturned
Juno Probe Reaches Jupiter
Turkey to Offer Citizenship to Syrians
Mexico Airlifts Food Due to Teachers' Blockade
500 Now Battling Observation Fire
MT To Receive $8 Million for Disaster Preparedness
Four MT Counties Placed Under Drought Alert
Billings Gazette, July 3rd
Study Ranks Montana as 7th Most Patriotic State

ABC Fox Montana, July 5th
MSU Extension Community Development | Wilson Hall 2-117 P.O. Box 172240 | Bozeman, MT 59717-2240
Tel: (406) 994-3620
Back issues of the MACDEP E-news are available here
To subscribe to the Montana CD E-Newsletter, send a request to: