46 Million People Are Living as Slaves Globally
Business Insider | READ STORY
Almost 46 million people are living as slaves globally with the greatest number in India but the highest prevalence in North Korea, according to the third Global Slavery Index launched with Australian actor Russell Crowe.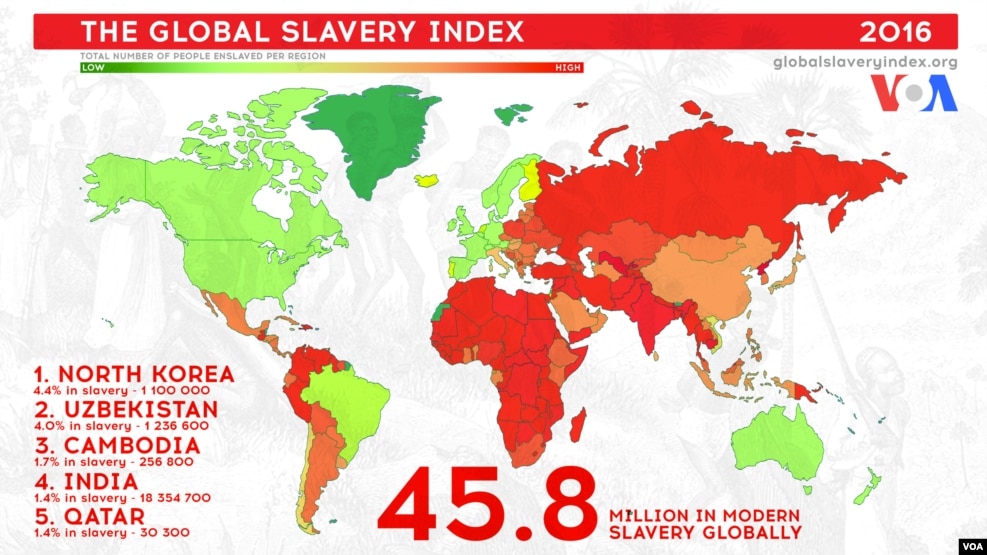 The Unrelenting Global March Of Diabetes
Forbes | READ STORY
A major new report from the World Health Organization has revealed that global diabetes cases have almost quadrupled to 422 million in 2014 from 108 million in 1980. Diabetes now affects nearly one in 11 adults with high blood sugar levels linked to 3.8 million deaths every year.
America's Shrinking Middle Class: A Look at Changes Within Metropolitan Areas
Pew Research | READ STORY
The American middle class is losing ground in metropolitan areas across the country, affecting communities from Boston to Seattle and from Dallas to Milwaukee. From 2000 to 2014 the share of adults living in middle-income households fell in 203 of the 229 U.S. metropolitan areas examined in a new Pew Research Center analysis of government data.
Countries' Clean Energy Commitments, by the Numbers
WRI | READ STORY
In the last two years, 160 countries publicly announced clean energy plans to be achieved between 2020 and 2030. These commitments represent the largest move to clean energy to date, with both major developed nations and emerging economies making pledges, including Small Island States and Least Developed Countries.
The World's Carbon Footprint Revealed
Daily Mail | READ STORY
There's now an interactive graphic that shows your country's emissions as well as the fossil fuels it uses, such as coal and petroleum, to see how it is contributing to clean energy. It lets you click on countries to reveal those with the largest carbon footprints, with China leading the way spewing out 10540.8 million metric tonnes of the gas every year.
The NACDEP and CDS boards will coordinate their fall Board of Directors meetings in Big Sky, MT on Sept. 9. The MACDEP Executive Committee is now discussing if/how we could coordinate our MSU CD Update to take advantage of their presence in Montana. Please let know if you have any comments regarding meeting on this date.

-Paul Lachapelle
MACDEP President
2016 NACDEP/ANREP CONFERENCE
June 26-29, 2016
Burlington, VT
Sponsor: NACDEP / ANREP
Joint IACD/CDS International Conference
July 24-27, 2016
Bloomington, MN
Sponsor: IACD / CDS
IARSLCE 16th Annual Research Conference
September 26-28, 2016.
New Orleans, LA
Sponsor: IARSLCE
Rural Community Investment
Deadline: Ongoing
Funder: CHS, Inc.
Community Building Grants
Deadline: Ongoing
Funder: Singing for Change
Sports and Community Development
Deadline: Open
Funder: Adidas Group
Developing Healthy Places
Deadline: Ongoing
Funder: The Kresge Foundation
First Residents Return to Fort McMurray After Wildfire
Massive Flooding in France and Germany

Scientists Develop Shark-Tracking Drones
Southwest Set for Record Highs over Summer
Mount Everest Threats Continue to Rise
Billings Schools Offer College Credit Waivers
Grizzly Bear Kills 40+ Sheep
Outside Money Expected in Montana Supreme Court Race
Fed. Judge Reinstates MT Political Donation Limits

MSU Extension Community Development | Wilson Hall 2-117 P.O. Box 172240 | Bozeman, MT 59717-2240
Tel: (406) 994-3620
Back issues of the MACDEP E-news are available here
To subscribe to the Montana CD E-Newsletter, send a request to: