More Routes = More Riders
CityLab | READ STORY
Transit ridership dropped by 2.5 percent from 2016 to 2017, with a downturn in bus passengers leading the hemorrhaging. These declines have been in progress virtually across the board in North America since 2014. What's less clear is exactly why we're all getting off the bus. The price of gas has gone down in recent years, which may be leading more Americans to choose to drive. The economy has improved, which could mean more of us can afford to buy and drive cars. There's also the rise of ride-hailing services like Uber and Lyft; some studies have shown they're pulling more-affluent riders off transit at certain times of day.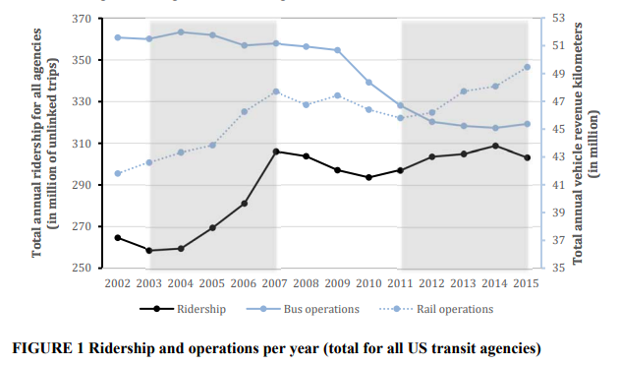 As Fatal Overdoses Rise, Many Americans See Drug Addiction as a Major Problem in Their Community
Pew Research Center | READ STORY
Americans overwhelmingly see drug addiction as a problem in their local community, regardless of whether they live in an urban, suburban or rural area, according to a new Pew Research Center survey. The public's concerns come amid steep increases in the number and rate of fatal drug overdoses across all three community types in recent years.
Almost Half of US Families Can't Afford Basics like Rent or Food
CNN Money | READ STORY
Nearly 51 million households don't earn enough to afford a monthly budget that includes housing, food, child care, health care, transportation and a cell phone, according to a study released recently by the United Way ALICE Project. That's 43% of households in the United States.California, New Mexico and Hawaii have the largest share of struggling families, at 49% each. North Dakota has the lowest at 32%.
U.S. Population Pyramid From 1980-2050
Visual Capitalist | READ STORY
It's no secret that an aging population will be the source of major demographic challenges in the coming years. In 1975, the median age in the United States was just 28 years old. However, it's been rising fast as the Baby Boomers age, and it's expected to break the 40 year mark by 2030. This shift is so fundamental that its ripples will be felt in almost every area imaginable. How we manage this change will have implications on the economy, culture, and politics – and it will almost certainly affect our personal wealth and investments, as well.
Report on the Economic Well-Being of U.S. Households
Federal Reserve Board | READ STORY
The Federal Reserve Board released the fifth annual Report on the Economic Well-Being of U.S. Households. The report found that overall financial well-being continued to improve in 2017, extending the gains over the past five years. Yet, notable differences in well-being remain across race, ethnicity, education groups, and locations.
The 2018 National Association of Community Development Extension Professionals (NACDEP) Conference website is updated with the Schedule at a Glance and Presentation Schedule; more info here.
Please join the International Association for Community Development to celebrate our 65th Anniversary in Maynooth, Ireland June 24-27 at the 2018 World Community Development Conference. The IACD Annual General Meeting will be live streamed and recorded; more info will be posted on the IACD website soon.
The 2018 Community Development Society (CDS) Conference registration is now open and posted on the CDS Website.
Paul Lachapelle
MSU Community Development Specialist
2018 NACDEP Conference
June 10-13, 2018
Cleveland, Ohio
Sponsor: NACDEP
Montana Coal Board
June 20, 2018
Billings, MT
Sponsor: Montana Community Development Division
World Community Development Conference, Ireland 2018
June 24-27, 2018
Maynooth, Nr Dublin, Ireland
Sponsor: IACD
2018 Community Development Society Conference
July 22-25, 2018
Detroit, Michigan
Sponsor: Community Development Society
"Night at the Museums" Civic Education Program
Deadline: July 6
Funder: U.S. Mission to Bosnia and Herzegovina
Food and Agriculture Service Learning Program
Deadline: July 6
Funder: U.S. Mission to Bosnia and Herzegovina
Collaborative Activities to Promote Cancer Cachexia Research
Deadline: July 30
Funder: National Institutes of Health
Community Facilities Programs
Deadline: Ongoing
Funder: Rural Development, USDA
NGO Small Grants Program
Deadline: August 6
Funder: Department of State
Atlantic Bay Sotheby's Donates $15,000 to Community Development Partnership
Cape Cod Today, June 6
European Development Days 2018 Harps on Empowering Women for Sustainable Development
Africa News, June 6
ASU Student Fosters Connections with Taiwan Pilot Tour and International Forum Project
Arizona State University,
June 6
Finance, Cotonou and Women Set to Dominate European Development Days
Euractiv, June 6
Missoula Nonprofit Expands Home Buying Assistance Program
Missoulian, June 6
Kalispell Looks for Community's Help to Design New Rail Trail
NBC Montana, June 6
Spirit of Service Helps Elderly and Veterans in Montana
8KPAX, June 6
Montana World Affairs Council: Cultivation Leads to Economic Development
Missoula Current, June 6