Mapping the U.S. by Property Value Instead of Land Area
CityLab | READ STORY
Troubling inequities are revealed when you look at the country by total property values. Max Galka, founder of Metrocosm, has posted a series of cartograms over the past few weeks to illustrate just how messed up the city is. As Galka notes, New York City's 305 square miles make up 8/1000ths of 1 percent of the land area of the United States. Yet New York City accounts for 5 percent of the nation's housing value-more than every single state but four (one of which is, of course, New York state).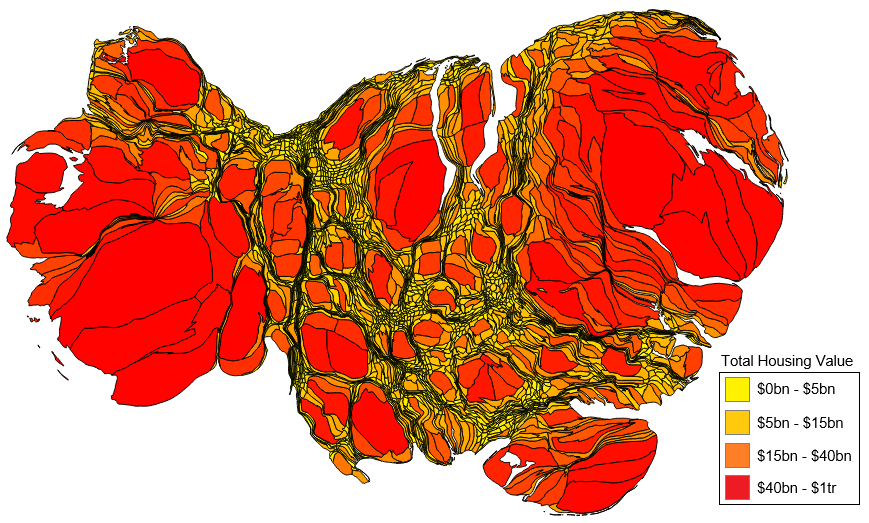 This is What the World Economy Actually Looks Like
WIRED | READ STORY
The Globe of Economic Complexity is a detailed map that allows you to visualize $15 trillion of world trade, with each colorful dot representing $100 million of exported products. By navigating the map, you can zoom in on any given country to view their range of exports, volumes and the links between them.
A Mismatch Between Need and Affluence
Chronicle of Philanthropy| READ STORY
It's a common combination across the country: Residents of areas with high standards of living, low poverty, and low crime give less to charity than those in less well-off areas. That's one finding from new data, compiled by The Chronicle of Philanthropy, combining giving behavior with quality-of-life measurements for 2,670 counties across the United States. It's based on data from The Chronicle's How America Gives study, which shows the share of income Americans in different parts of the country have donated.
10 Years Later, There's So Much We Don't Know About Where Katrina Survivors Ended Up
CityLab | READ STORY
Ten years after Hurricane Katrina, there is still no single, comprehensive source of information on what happened to displaced New Orleans residents - on where they went, or why. But the Federal Emergency Management Agency (FEMA) captured just a snapshot of the displacement, and in the broadest stokes. Narayan Sastry, a scholar of population studies at the University of Michigan and a social scientist at the RAND Corporation, has been developing survey-based methods of tracking displaced New Orleanians since 2009. In a 2014 paper, Sastry used a sample of individual responses from the Census Bureau's American Community Survey (ACS) to examine where New Orleans residents wound up in the year after the hurricane, and what factors had influenced their moves.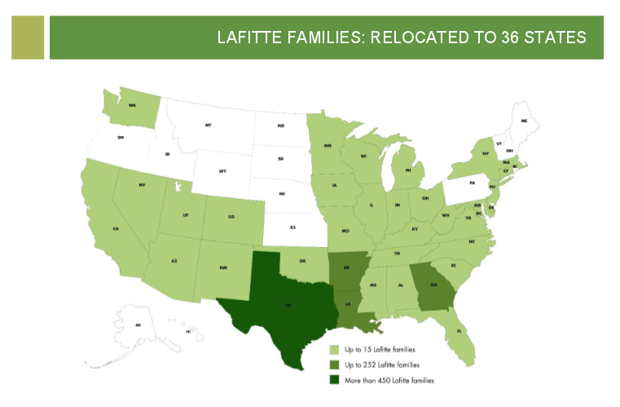 This Is How Fast America Changes Its Mind
Bloomberg | READ STORY
Social change in the U.S. appears to follow a pattern: A few pioneer states get out front before the others, and then a key event - often a court decision or a grassroots campaign reaching maturity - triggers a rush of state activity that ultimately leads to a change in federal law. Bloomberg Business looked at six big issues - interracial marriage, prohibition, women's suffrage, abortion, same-sex marriage, and recreational marijuana - to show how this has happened in the past, and may again in the very near future.
Interactive Graphic: What Do Your State's Emissions Look Like?
World Resources Institute | READ STORY
The U.S. Environmental Protection Agency will soon release the Clean Power Plan, aimed at reducing greenhouse gas emissions from the U.S. power sector, the country's single-largest source of emissions. State-level actions to boost efficiency and ramp up clean energy will play a central role at reining in power sector emissions and helping the United States meet its climate target to reduce emissions 26-28 percent below 2005 levels by 2025.
As a member of the Board of Directors of The International Association for Community Development (IACD), we are pleased to announce our upcoming Community Development "Practice Exchange" in India March 10-21, 2016; this 12-day study tour will provide an in-depth and intimate look at community development work in India. The theme of this Practice Exchange is "Sustainable communities: Integrating social, economic, environmental and cultural aspects of community-led development." Locations include New Delhi, Uttarakhand (northern India-Himalayas), and Rajasthan. The program will be limited to a maximum of 35 participants, divided into smaller groups during field visits. This is a tremendous opportunity to learn about new cultures, global perspectives, and innovative teaching and research techniques. More information here or contact
Also, I would like to extend a special thank you to MSU student Sarah Bolt for doing an outstanding job compiling and editing the MACDEP e-Newsletter and introduce in-coming Architecture student Cole O'Brien who will be taking over as our Community Development Research Assistant; Best wishes, Sarah and welcome Cole!
-Paul Lachapelle
MACDEP President
EDAC's 47th Annual Conference
September 19-22, 2015
Whitehorse, Yukon
Sponsor: Economic Developers Association of Canada
NACCED's 40th Annual Educational Conference and Training
October 4-7, 2015
Salt Lake County, UT
Sponsor: National Association for County Community and Economic Development
2015 NADO Annual Training Conference
October 24-27, 2015
New Orleans, Louisiana
Sponsor: NACDEP
2015 IARSLCE Community Engagement Conference
November 16-18, 2015
Boston, Massachusetts
Sponsor: IARSLCE
Our Town Grant Program
Deadline: Sept 21, 2015
Funder: National Endowment for the Arts
Safe Places to Play Grant
Deadline: Oct 2, 2015
Funder: US Soccer Foundation

Sports and Community Development
Deadline: Open
Funder: Adidas Group
Community Facility Loans
Deadline: Ongoing
Funder: Rural Community Assistance Corporation
Developing Healthy Places
Deadline: Ongoing
Funder: The Kresge Foundation
Congress: Spending Crisis, Fear of Gov. Shutdown
Europe Searches For Answers; Migrants Flood In

Forest Service Spends Record Amount on Firefighting
Scientists Find New Monument Near Stonehenge
Russia Enacts Military Exercises Amid Ukraine Tensions
Montana Drought Disaster Declaration Extended to 19 Counties

Montana Company to Build Largest Flow Battery in North America and Europe
Commercial Drone Company Opens Business in Helena
Kalispell Man Works to Make New Trail System a Reality
Rain, Snow Help Fight Montana Wildfires