US Bosses Now Earn 312 Times The Average Worker's Wage, Figures Show
The Guardian | READ STORY
The chief executives of America's top 350 companies earned 312 times more than their workers on average last year, according to a new report published Thursday by the Economic Policy Institute...The pay gap has risen dramatically, with some fluctuations, since the 1990s. In 1965 the ratio of CEO to worker pay was 20 to one; that figure had risen to 58 to one by in 1989 and peaked in 2000 when CEOs earned 344 times the wage of their average worker.
Most European Students Are Learning A Foreign Language In School While Americans Lag
Pew Research Center| READ STORY
Students throughout the United States and Europe face many similar tasks throughout their education, from preparing for exams to writing papers. But there are glaring differences when it comes to foreign language education – or lack thereof – and the result is that far lower shares of American students study a foreign language.
It's Easy To Become Obese In America. These 7 Charts Explain Why
Vox.com | READ STORY
According to an analysis from the Centers for Disease Control and Prevention, the average American man now stands at 5-feet-9 1/4 inches tall and weighs 196 pounds — up 15 pounds from 20 years ago. For women, the change has been even more striking: The average female today stands 5-feet-3 3/4 inches and weighs 169 pounds. In 1994, her scale read 152 pounds. The latest CDC estimates now show that, as of 2016, 40 percent of US adults and 19 percent of youth were obese.
The Cities Where You Get The Biggest Bang For Your Buck
Citylab.com | READ STORY
Towns with positive job growth, where residents get the biggest bang for their salary buck, are not your New York's or San Francisco's. They're places like Duluth, Minnesota; Wilmington, North Carolina; and Lubbock, Texas. And even if you're not about to up and move away from family and networks for these perks, there may be another city less than day's drive away that has a lower cost of living.
Hitting Toughest Climate Target Will Save World $30tn In Damages, Analysis Shows
The Guardian | READ STORY
Achieving the toughest climate change target set in the global Paris agreement will save the world about $30tn in damages, far more than the costs of cutting carbon emissions, according to a new economic analysis. The research, published the journal Nature, is among the first to assess the economic impact of meeting the Paris climate goals. Data from the last 50 years shows clearly that when temperatures rise, GDP and other economic measures fall in most nations, due to impacts on factors including labour productivity, agricultural output and health.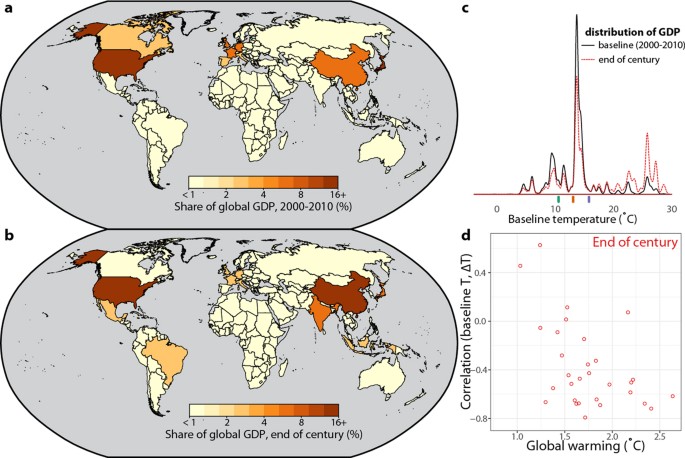 A number of colleagues across the public university system are working together to establish the National Public Issues Education Consortium to engage in networking, dialogue, information sharing and related coordinated event planning across the public university system for colleagues involved with community engaged scholarship. We have created a website and to help organize us. Check out information on our upcoming webinar series. Please feel free to inform and invite colleagues to this new effort.
On behalf of all the webinar sponsors, we are excited to bring you our Fall FREE Small Business Webinar Series. Information on how to connect to the webinar, our past webinar archives, file links, and list serve subscription is posted MSU Extension Small Business website. The 9th Annual Community Foundation Statewide Convening takes place Sept. 17-18 in Red Lodge, Montana. More info and registration details here. Interested in learning more about avalanche safety? Consider hosting a workshop in your community; MSU Extension is working with the MSU Snow and Avalanche Lab and has a new Montana Avalanche Safety MontGuide to address the increasing popularity in winter backcountry recreation.
Paul Lachapelle
MSU Community Development Specialist
National Sustainability Summit (NSS) & National Extension Energy Summit (NEES) 2019
April 16-19, 2019
Sponsor: USDA-NIFA
Leadership Online For Today
Registration Deadline: Jan. 7, 2018. Runs Jan.21-April 8, 2018
Sponsor: University of Missouri
NSC Northeast Safety Conference & Expo
Register By Dec. 4, 2018
Sponsor: National Safety Council
Pittsburgh - David L. Lawrence Center
National Urban Extension Conference
May 20-23, 2019
Sponsor: Washington State University, National Urban Extension Leaders
Seattle, Washington
Efforts to Advance Justice and Opportunity for People in Need
Deadline: Ongoing
Funder: Public Welfare Foundation
Community Development Block Grant (CDBG) Program
Deadline: Ongoing
Funder: Department of Commerce
Rural Health Network Development Planning Program
Deadline: November 30
Funder: Department of Health and Human Services
Community Facilities Programs
Deadline: Ongoing
Funder: Rural Development, USDA
Small Business Innovation Research Program Phase I Fiscal Year 2019
Deadline: October 25
Funder: Department of Agriculture
Economic Development Group Begins New Approach to Community-Building
Kokomo Perspective, Sept 11
Macron's Developmental Vision Takes Shape
Devex, Sept 11
Theresa May Pledges Africa Investment after Brexit
BBC, Aug 28
India Steps up Development Partnership with Afghanistan
Business Standard, Sept 10
Mediation Scheduled for Locked-Out Talc Mill Workers in Three Forks

NBC Montana, Sept, 10
Bozeman Resident Ready to Open Library Labyrinth to Honor Late Wife

Bozeman Daily Chronicle, Aug, 18

Bacon Rind fire still chewing up trees in Yellowstone
Bozeman Daily Chronicle, Sept, 11